When an employee loses their job in a layoff, their outstanding 401(k) loan is probably the last thing on their mind. What percentage of employees with 401(k) loans will default upon job loss?
A.  42%
B.  59%
C.  86%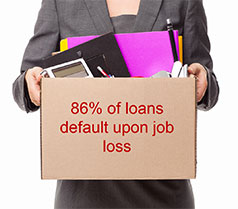 The correct answer is…
C.  86% of loans default upon job loss. Plus, an estimated 65% of 401(k) plan participants go on to cash out their retirement accounts after defaulting on their loan. This action jeopardizes years of earnings potential and negatively impacts participant retirement outcomes.
When your employees are protected by Retirement Loan Eraser™ — a participant-paid, group insurance program that prevents 401(k) loan defaults in the event of involuntary job loss — they get to "keep their balance" and their retirement savings intact. Protected loans help employees improve their chances of financial wellness, while reducing a troublesome source of plan leakage for employers.