Protecting your employees' retirement savings to deliver financial peace-of-mind
Improve financial wellness by preventing retirement loan defaults
Your retirement plan aims to ensure every employee retires securely, yet retirement loan defaults jeopardize savings and amplify financial stress. This is particularly acute for Black and Hispanic employees, who have loan default rates more than double the average participant. Our Retirement Loan ProtectionSM solution prevents loan default. It is an automatic, low-cost solution to shield retirement savings and improve financial wellness.
Disparities in the likelihood of participants having an outstanding plan loan
Participants with at least 15 years of tenure*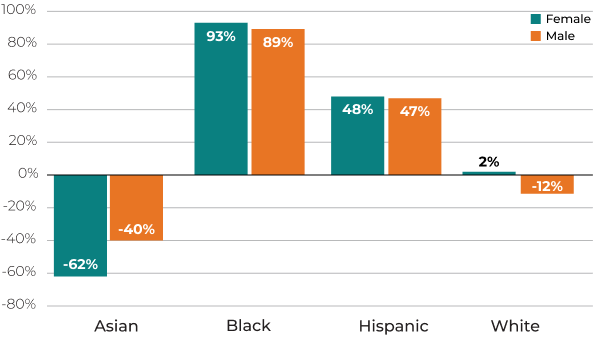 Source: Morningstar Center for Retirement and Policy Studies, based on industry participant data 2016-2022, published 2023.
*Weighted sample, by age, gender, and race/ethnicity. Filters out salary <$10k.
The compounding benefits of retirement loan protection
Safeguard employees' retirement savings1
Preserve employees' hard earned savings balances and progress while preventing plan leakage
Improve financial wellness

Help keep employees engaged and on track to a secure retirement
Give employees peace of mind knowing they have a safety net should they
need it
1Source: Bank of America "Workplace Benefits Report," 2020
An impactful retirement benefit for employees
of participants find automated, low-cost loan insurance appealing
of participants would consider increasing contributions if their employer added
loan insurance
of participants report feeling financially stressed and would have peace of mind knowing they have a safety net
Source: Greenwald 401(k) Borrowers study, 2019
How Retirement Loan ProtectionSM works for employees
Custodia Financial's automated, low-cost Retirement Loan ProtectionSM solution makes loan payments when participants can't. We prevent loan default for your most at-risk participants resulting from:
When participants are laid off or lose their jobs, Custodia Financial takes over their loan payments for 6, 9 or 12 months while they search for a new job.
Participants who choose to change jobs can continue to repay their loans through Custodia, allowing them to maintain their retirement savings without defaulting on their previous employer's retirement plan loan.
If participants pass away or become disabled, Custodia Financial will restore their retirement plan accounts in full.
Ready to advance your retirement wellness program?