The retirement loan default crisis has reached epic proportions. Over $23 billion dollars in precious retirement savings has been lost to 401(k) loan defaults since 2014.*  Don't just take our word for it.  Hear what other experts have to say.
"Insurance of 401(k) loans would add an additional certainty: Fewer Americans would suffer the unnecessary loss of retirement savings due to unanticipated and untimely misfortune."
– Elaine Chao, 24th Secretary of Labor
"There is a clear need to protect retirement savings from events outside the participants' control.  This is especially true in the case of participant loans."
– Bruce Ashton, Attorney, Drinker Biddle
"The primary risk to retirement security occurs when participants default on loans, which almost always follows termination of employment, not during active employment."
– Senate testimony by Aon Hewitt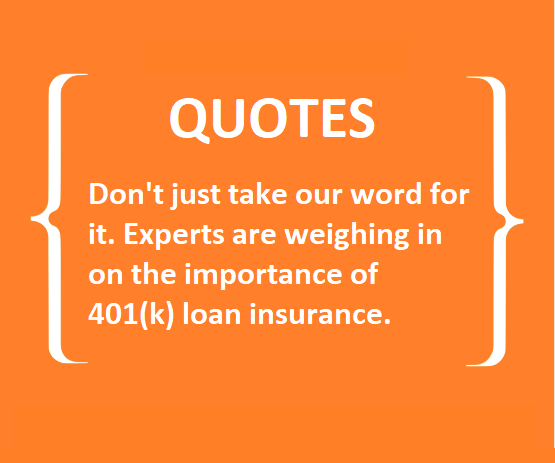 "RLE is designed to protect defined contribution plan participants from the loss of their retirement benefits due to an involuntary job loss while also assisting a fiduciary in managing and limiting the inherent risks in the administration of a defined contribution plan loan program."
– Groom Law Firm
A loan program is required to include a specific provision which identifies the "events constituting default and the steps that will be taken to preserve plan assets in the event of such default."
– ERISA 29 CFR 2550.408b-1(d)(vii)
"Plan fiduciaries become especially vulnerable to this liability as effective protective measures, for example participant life and disability coverage, become more widely available."
– William A. Schmidt, Partner, K&L Gates
"Affordably priced, RLE's universal coverage provides attractive benefits—limiting fiduciary exposure, preservation of plan assets, and a more effective repayment channel that keeps participants on track for retirement."
– Thomas G. Schendt, Partner, Alston & Bird, LLP
"As an employee benefits lawyer who counsels employers, I have become increasingly concerned about the implications of 'pension leakage' for fiduciary liability, at least in the absence of currently available loan protection."
– Tom Christina, Attorney, Ogletree, Deakins, Nash, Smoak & Stewart, PC
Traditional attempts by plan sponsors to limit 401(k) loan defaults aren't working. It's time to offer participants simple, low cost loan insurance that prevents loan defaults and provides an automated, measurable financial wellness solution for your plan.
* Analysis based on Wharton/Vanguard Study, February 2014