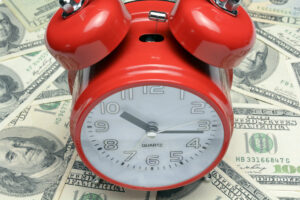 In the minute it takes you to read this, $11,415 in 401(k) loans will default. Precious retirement savings will evaporate.
Each second that passes, more employees default on their 401(k) loans. Loan defaults are a major source of retirement plan leakage that many plan sponsors are overlooking. But this problem can be prevented.
$23 billion dollars and counting … down the drain
Research from Wharton and Vanguard released in February, 2014 found that when employees lose their jobs, up to $6 billion in 401(k) loans default annually. Based on our analysis, over $23 billion dollars in retirement savings has been lost to unnecessary loan defaults since March 1, 2014. Leading ERISA lawyers have called it a "loan default crisis."
It's time to stop the loan default clock
These numbers are alarming but there is good news. The clock can be stopped. Simple loan insurance automatically prevents loan defaults due to involuntary layoffs.
Adding Retirement Loan Eraser to your plan will preserve retirement savings and improve outcomes. There is no cost to plan sponsors, and participants pay just a few dollars per loan repayment for protection.
We're not just talking about leakage. We're solving it.
With all the industry focus on financial wellness, isn't it time to consider the obvious? It's time to prevent unnecessary 401(k) loan defaults. It's time for participants to "keep their balance."
Read about Retirement Loan Eraser in PLANSPONSOR